2018 Lexus NX Revealed at Shanghai Motor Show
August 08 2018, Erin Park Lexus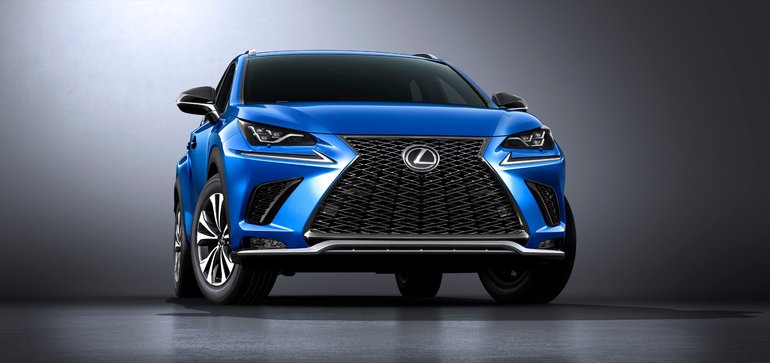 Lexus NX to have sharper look & enhanced performance in 2018
The 2018 NX gets a sleeker overall shape. The new model was revealed on April 19th at the Shanghai Motorshow.
The NX was introduced in 2014, targeting those who wanted a luxurious crossover. Both stylish and spacious, the NX is considered the best-looking crossover in its class.
Lexus designers want to continue to enhance the original design of the NX outperformed sales forecasts around the world.
The first change to the all new NX, has been applied to its name. Previously known as the NX 200t, the 2018 model will change its name to NX 300. The 't' designation has been completely removed since its turbo-charged engine is no longer unique to the NX, as we see it being adopted by other Lexus models.
Breakdown of Redesign
EXTERIOR
Front Fascia
Refreshed, sportier face for an overall stronger and more aggressive presence
Upper portion of grille and front bumpers now more fluid with hood and front doors
Premium head lamp option with triple projectors (similar to LC 500)
Satin and smoked chrome trim elements applied to grille
New vertical elements added to grille's inner portion
Lower front bumper offers better support to spindle grille
Relocated fog lamps to corner of front bumpers
Rear End
Lower rear bumper cover now involves elements of the grille's spindle motif
Broadened to enhance the vehicle's wide stance and low-center-of-gravity look
Elongated tail lights
Black garnish revised for more emphasis of 'L"-shaped lenses
Larger chrome-tipped exhaust tips
Exhaust tips integrated into revised bumper cover design
New rear underbody spoiler
NX Hybrid to have slotted sectional piece with an L-shaped satin chrome border that blends into underbody spoiler
Sensor foot-operated rear hatch
Wheels
High-grade aluminum 18-in. wheel option available
Features bright machined-finish with dark metallic paint
INTERIOR
Center dashboard display goes from 7" – 10.3" with an 8" audio display monitor
HVAC control panel simplified by replacing small section of buttons with four easy-to-operate toggle switches adorned with tiny "s" on their surface
Rear-seat passengers able to set temperature of their own compartment via switch on rear console
Analogue clock features cleaner, simpler design with more pronounced outer ring
Clock has been slightly enlarged for better readability
Now included satellite control which automatically sets the time in different time zones
Nearly all controls and switches now have metallic satin finish
Remote touch interface pad enlarged for easier operation
Palm rest reshaped for maximum wrist comfort
Wireless charger tray larger to accommodate larger smart phones
USB ports more optimally positioned in center console
Amperage increased for faster charging
Models with Head Up Display (HUD) will now have until integrated into upper instrument panel for a smooth dash surface
PERFORMANCE
Sportier engine sound and exhaust note reproduced through the speakers by Lexus' Active Sound Control (ASC)
Springs, stabilizer bars and bushings retuned for improved turn-in response and steady-state cornering
New shock absorbers improve the quality of smooth ride
New Adaptive Variable Suspension (AVS)
Reduced noise, vibration and harshness (NVH) thanks to combination of suspension tuning and addition of strategically placed sound deadening within the vehicle's body
F SPORT
Trim level will receive specially textured Naguri aluminum ornamentation
New Flare Red interior colour seating surface treatment exclusive to the F Sport
Readouts for turbo boost and G forces for HUD display